For the construction of infrastructures and structures below ground level frequently retaining walls, sheet piles and building pits are used. ZAFECO advises on the mentioned constructions on the basis of:
The necessary soil research;
Interpretation of the results of soil research;
Type of sheet pile and the depth of installation;
Construction method taking into account the design, the subsoil type and the nearby infrastructure;
Construction phases: Excavation levels in the different phases as well as levels and types of struts and / or anchors;
Geo-hydraulic analysis and where necessary drainage advise
Analysis of the deformations around the trench or sheet pile;
Monitoring during the construction phase.

Analysis of deformations around building pits or sheet piles
Nowadays, excavations are used for the construction of building pits, trenches for pipelines and general purpose which are located near existing buildings and infrastructures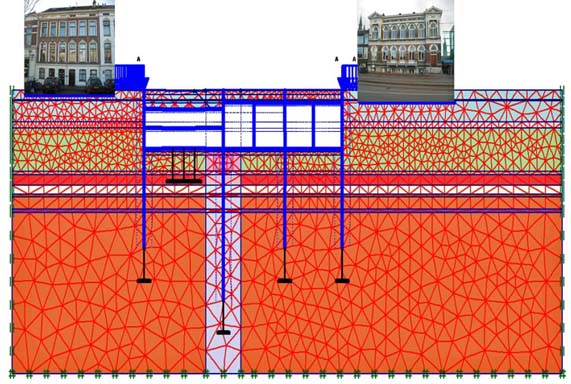 .
Soil deformations caused by excavations should be limited to avoid structural damage to buildings or surrounding infrastructure. ZAFECO B.V. executes analysis of the deformations of the terrain using the program of finite elements Plaxis and evaluates if the deformations of the ground will remain within the required parameters.
If the projected soil deformations are too large ZAFECO will advise on the complementary and compensatory measures so that the deformations are kept within the required parameters.
Proyectos:
- Ferrocaril Delft, Holanda
- Ampliacion de las férreas Vleugel/RSS