The construction of embankments for example for roads or railways in soft soils can cause settlements. In addition, a primary task is to ensure and guarantee the stability of the embankment under construction. Another important consideration is to ensure that groundwater and rainwater can drain properly.
ZAFECO advises how within the available construction time it will be possible to comply with the required residual settlements, stability levels (both in the final phase and in the construction phase) and how drainage requirements can be met. In order to comply with the residual settlements, ZAFECO advises on actions to accelerate settlements and / or measures to reduce settlements.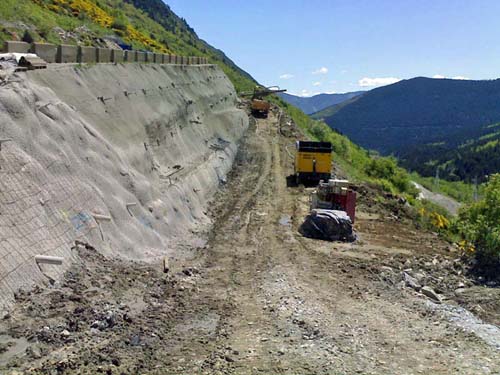 The proposed solutions consider the materials and soils available in the environment where the project is developed, the available construction times, the possibilities of transporting soils and local materials, the nearby infrastructure and existing cables and pipelines. In this way, our objective is to advise on the most sustainable and economic method of construction together with the best maintenance plan.
ZAFECO also focuses on monitoring processes during the construction phase, performing analysis of data from insitu measurement instruments (e.g. piezometers, measuring pipes).
Our consultancy in engineering of embankments is incited by using geotechnical opportunities and controlling geotechnical risks. The first step will be to explore and identify the subsoil on which the embankment will be constructed. Based on the investigation of the subsoil by CPT probes we can develop a longitudinal profile and divide the construction of the road in geotechnical subsections.

With this information we will be able to identify the geotechnical risks and to propose the most economical and durable solution in relation to the type of soil found. The design of the embankment is done in such a way that it can deal with the main problems of soils:
Settlements
Stability
Load bearing capacity
Phreatic level
Proyectos:
- El dique Maassluis
- "Puerto Goudse" en Gouda Holanda
- Prolongacion del tranvía Oosterheem
- Hong Kong